St. John of Shanghai
and San Francisco
19.juni/02.juli
---
St. John Maximovitch of Shanghai and San Francisco was born on June 4, 1896, in Adamovka, in Russia's Kharkov province, and was baptized M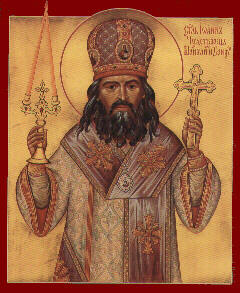 ichael, in the name of the Archangel. As a child, he was familiar with a local monastery where lay the miracle-working relics of a holy Archbishop, who had been venerated in life for his extreme asceticism, often having gone without sleep at all, spending nights standing motionless in prayer. Like him, St. John also became a great ascetic, and when he died, he had not slept in a bed since he took his monastic vows 40 years previously, only sleeping for an hour or two on the floor. He ate only once a day, at 11 PM. During the first and last full weeks of Lent he did not eat at all, and for the rest of the fast, he ate only prosphora from the altar. He often walked barefoot even on the coldest days.
He was consecrated Bishop on May 28, 1934, by renowned Metropolitan Anthony Khrapovitsky, though St. John was so humble that he had been sure up until the last moment that he had been called by mistake, and that surely another hieromonk John was wanted, because he had a speech impediment, and felt he could not serve. The response he received was that the Prophet Moses had, as well.
He was assigned to the Diocese of Shanghai, China. He worked there to restore unity among local Serbian, Greek, and Ukrainian believers, to build a cathedral and numerous other churches and hospitals. He visited the sick and those in prison, and was would go to anyone critically ill at any time of day or night to pray at the bedside, and many reported miraculous healings. He gathered sick and suffering children from the streets of Shanghai and cared for them in an orphanage he established, ultimately serving 1500 children altogether. He was known for his ability to see the future, providing services to people who seemed in excellent health, for example, whom he foresaw were imminently to die. He appeared at the bedside of one who was dying and had prayed for him to come, though the hospital staff had refused to call for him. He served the Holy Mysteries to a woman dying of rabies, and immediately after doing so, she had a fit, foaming at the mouth, and spitting up the Holy Gifts. Knowing that the Holy Gifts cannot be thrown away, St. John immediately picked them up and swallowed them, himself, even though rabies is extremely contagious and routinely fatal. He said, "Nothing with happen; these are the Holy Gifts!" and he spoke the truth.
St. John also served in the Phillipines when the Russians
had to flee China, later in Paris and Brussels, and finally San Francisco. His last years included much suffering, with conflicts and slanders, and Vladyka was even subjected to having to testify in court, but in the end, the truth triumphed. He foreknew the time and place of his death, and on June 19, 1966, in the presence of the miraculous Kursk-Root Icon of the Mother of God of the Sign, he reposed in the Lord. Many people reported his visitation in dreams and visions, filled with joy and bathed in light. In 1994, a commission of the Church found that his relics were incorrupt, and many people since, praying before his relics, have found healing and consolation.
Holy St. John, pray to God for us.
St. John is commemorated on June 19 on the calendar of the ancient Church (July 2, on the New Style calendar)